Category:Jackson Rhoads series
From guitarinside.com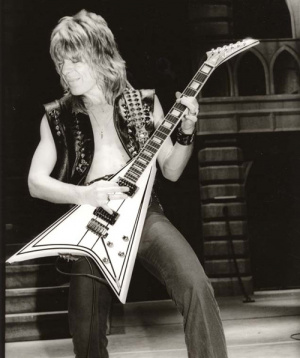 Years: 1981-present
The Randy Rhoads (or just RR) guitar was the first instrument produced to bear the Jackson name and it still remains as the flagship of their line. Instrument was designed by the late guitar virtuoso Randy Rhoads in collaboration with Grover Jackson of Charvel Guitars. This guitar represent first choice of "Metal" guitarists around the world.
Frustrated with limitations of his current guitars, Randy decided to visit Grover Jackson and his gifted team on builders at Charvel®, the Mecca of custom axes, in December of 1980. From a rough sketch of a sharp offset "V", the results of Randy and Grover's efforts are legendary. Tim Wilson, now our Production Manager, immediately went to work carving this radical new neck-through body design. Two months later, Randy received his guitar – a white, black and gold heavy metal masterpiece dubbed the "Concorde" – which became the first Jackson® branded guitar.
A second, more-refined version of the Concorde, built by Mike Shannon, who is now our Senior Master Builder, was delivered to Randy just before his tragic and untimely death in March of 1982. It was this version of the guitar that we renamed the Jackson Randy Rhoads, forever pairing Jackson and metal in the annals of rock guitar lore. (Jackson catalog, 2006)

Instrument is balanced, to prevent it from being neck-heavy or body-heavy, but time to time some low level instruments have this problem.
As with the Soloist, the body and neck are on continuous piece of maple(except low price guitars), for ultimate tone.
Pages in category "Jackson Rhoads series"
The following 29 pages are in this category, out of 29 total.