Category:Jackson Soloist series
From guitarinside.com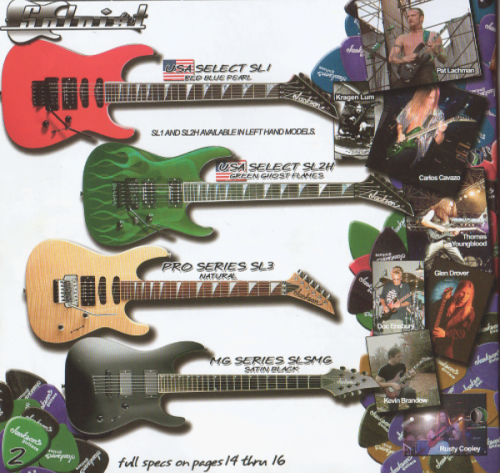 Years: 1980-present
Introduced in 1980, was first inspired by a request for a guitar that was "just a bit narrower and sharper-looking" in a classic body style. Standard equipment includes a maple center block that runs through the entire length of the guitar; making the neck and body one piece of wood for brilliant sustain, flanked by poplar(or alder or basswood) sides for harmonic enrichment. Because of its neck thru body construction, the Soloist offers very even string response and exceptional sustain, along with unsurpassed solidness and rigidity.
Commonly this guitars features 24 frets, Floyd Rose double locking tremolo or Tune-o-matic bridge(with strings thru body) and Sharkfin inlays. It's one of the most popular guitar of Jackson Guitars company.
Pages in category "Jackson Soloist series"
The following 43 pages are in this category, out of 43 total.