Category:Jackson Professional series
From guitarinside.com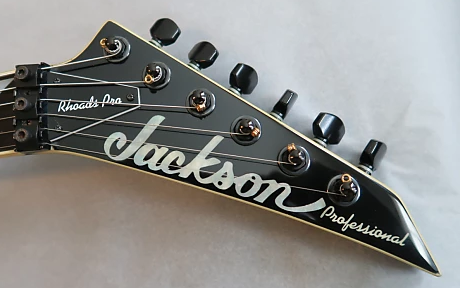 Years: 1990-2002
Factory: Japan (Chushin Gakki).

These guitar series represent golden years of Japan Jackson guitar craft.
Top guitars of this series with "Pro" and "XL" appendices at the truss rod cover (after model name) have pearl "Jackson" logo.
"Pro" guitars commonly have ebony fingerboard, better Schaller JT-590 tremolo (made in Germany) and Pearl Jackson logo. Guitars with indexes "Std", "EX", etc usually have Takeuchi JT-580 tremolo (made in Japan), Rosewood fingerboard and white logo.
Many instruments of this series have Basswood body and Maple neck.
The last guitars with "Professional" logo are shown on the Jackson 2002 catalog.
Pages in category "Jackson Professional series"
The following 59 pages are in this category, out of 59 total.